You can go to Huidtherapeut NL for treatment of all forms of edema, such as lymphedema (primary and secondary lymphedema), venous edema and lipedema.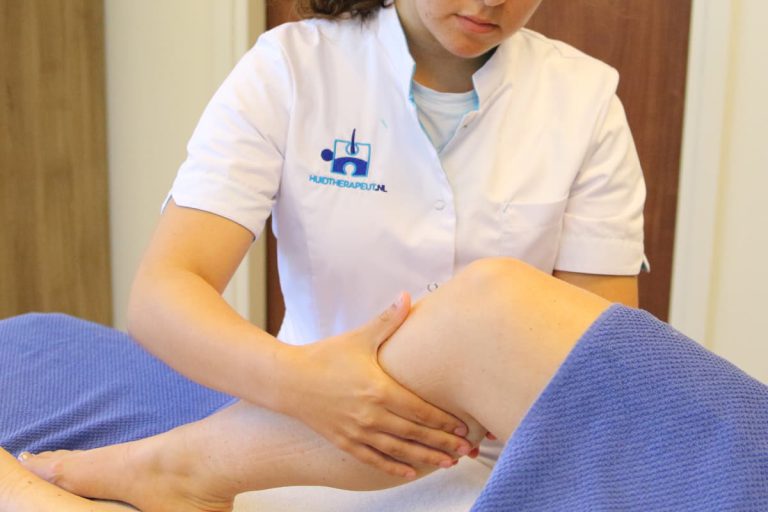 Manual lymph drainage:
Is a technique in which the fluid absorption through the lymphatic vessels is stimulated by a gentle pumping movement. The lymphatic system is activated and stimulated to increase lymph drainage.
Endermology / LPG:
A therapy that is performed with an LPG device. The LPG device ensures that the skin and underlying tissue are treated intensively. This is done with a number of cylinders that lift and unroll the skin. This promotes blood flow, stimulates lymphatic drainage and softens fibrotic, scarring and other hardened tissue.
Lymphapress:
An important and complementary to general edema therapy in primary and secondary lymphedema (after oncological surgery, vascular surgery and other trauma), venous edema and lipedema. It accelerates the reduction of fluid and eases fibrosis in a pleasant and relaxing feeling for the patient.
Lymph taping:
A skin-friendly tape that stays on the skin between treatments. With every movement, the lymph tape stimulates fluid drainage and relaxes fibrosis, scars and other hardened tissue. We have a skin-friendly tape that can also be used on skin that has an allergic reaction to patches.
Movement advice:
When a client starts or stays moving at home, the result of our edema therapy is stimulated, this is due to the muscle pump function that is activated during movement. If a client has reduced mobility, we can provide adapted movement exercises.
ACT / Bandaging:
Outpatient compression therapy is used when size reduction is required.
Measuring in-elastic compression bandage:
These are bandages with Velcro that are attached to a stocking. This can be used for someone who cannot be bandaged or who has to be bandaged for a long time. Indications are chronic venous diseases, venous, stagnant ulcers and lymphedema.
Wound care:
When a client has wounds, in combination with edema, we treat both the wound and the edema in the same treatment. We do this by treating the wound, applying ambulatory compression therapy and possibly using the lymphapress.
Measuring support stockings:
The compression stocking ensures that the reduction of edema is maintained, but can also serve as prevention. We have access to ordering any desirable stocking.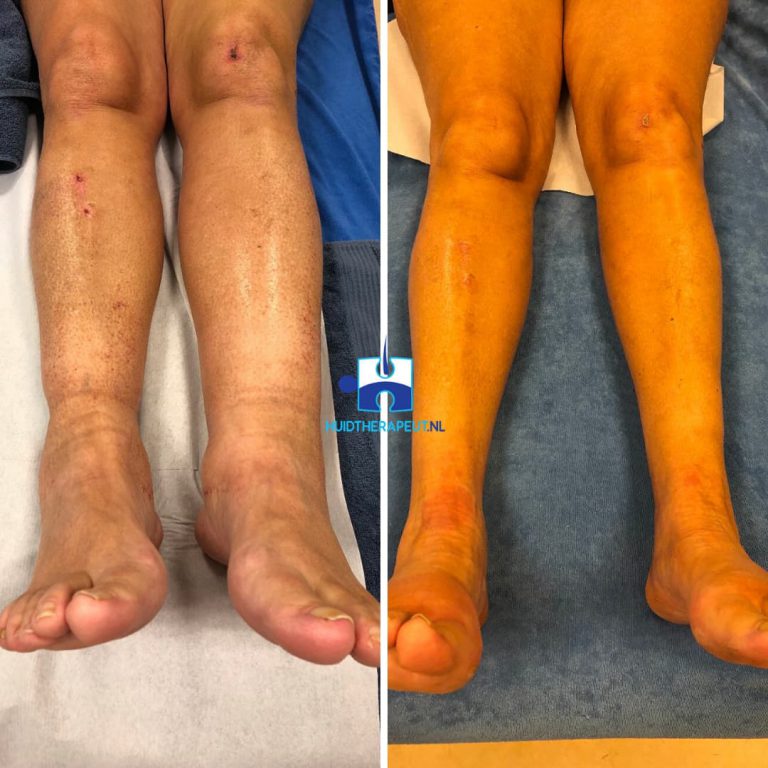 First consultation free and without obligation
The first appointment is free and without obligation. During the first appointment, the intake, we go through your details and relevant medical history with you. Here we look at whether there may be a (relative) contraindication, so that treatment may not be an option.
We also look closely at the skin and then draw up an individual treatment plan based on this skin analysis. You will receive information about the treatment and advice.
Reimbursement by health insurers
Edema therapy is (partly) reimbursed by most insurance companies. Ask your skin therapist for advice if you are unsure whether a certain treatment is reimbursed
You may be eligible for reimbursement for edema therapy. To be eligible for reimbursement, you need a referral from your doctor or specialist. If there is no chronic indication, you can use your supplementary package.
If there is a chronic indication, the first 20 treatments are taken from the supplementary package. After the first 20 treatment, the reimbursement changes to the basic package under a chronic code. The deductible applies annually.
During an intake interview we look at the reimbursement, insurance and the (chronic) indication.
Please note: the level of the supplementary reimbursement differs per insurance package and whether a referral from a doctor or specialist is mandatory.